Rebecca Kuo and Siu Han, Taipei; Rodney Chan, DIGITIMES [Friday 25 July 2008]
AU Optronics (AUO) may delay the ramp-up at its hybrid 7.5-8.5G LCD panel plant if the panel market is weak next year, but the company does not believe that the market will be as bad as others are predicting, according to AUO CEO HB Chen.
Many observers are warning that the LCD panel market may see oversupply when makers ramp up production at their next-generation lines, and the situation may get even worse if the market continues to be hit by a weak economy.
But Chen told an investors conference Thursday that unless something uncontrollable happens, the 2009 market will not be too bad. As for the capital expenditure (capex) for 2009, AUO will remain flexible, but it may delay the production ramp-up at its hybrid plant if the market is weak, Chen said.
AUO plans to kick off mass production in the third or fourth quarter of 2009.
Chen said AUO's capex for 2008 will remain at NT$130-140 billion as originally planned although the company will only run at 90% of its capacity for the third quarter. While the lower utilization is expected to impact the company's margins and profits, AUO still expects growth in the third quarter: 5% sequential shipment increase for the large-size segment, and 15% for the small- to medium-size segment.
But the average selling price (ASP) for IT applications will fall 15% sequentially and down slightly for TV panels in the third quarter, during which the ASP for overall large-size panels will decline 5%.
Chen said although the high season in the third quarter looks weak, demand may still pick up after the channel clears inventories in mid August. He said clients still have hopes that the Beijing Olympics and the long holiday around China's October 1 National Day will boost sales of LCD TVs.
AUO said its inventory increased to 40 days in the second quarter from 33 days in the first quarter. In order to keep the inventory at 40 days or so, AUO has to reduce its utilization rate to 90% in the third quarter, it explained.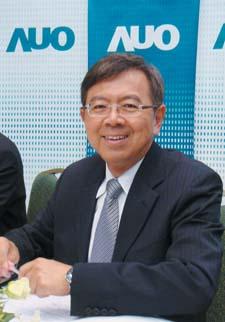 AUO CEO HB Chen
Photo: Rebecca Kuo, Digitimes